※These are personal impressions to indicate efficacy or effectiveness.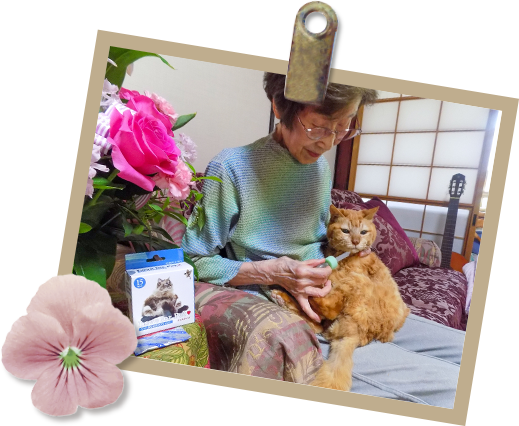 Churutto Snap No.1
Akita / Moc (23 years. old) Boy
(June 2023)
Message from the owner… My daughter's cat lived a long and healthy life, and she recommended beta-glucan to me. I noticed that he turned 23 years old this year, which is a whopping 108 years old in human terms! He now licks from the dropper. I also get compliments from the doctor on my monthly checkups. I am now 97 years old, and I will continue eating beta-glucan with him and live a long and healthy life together.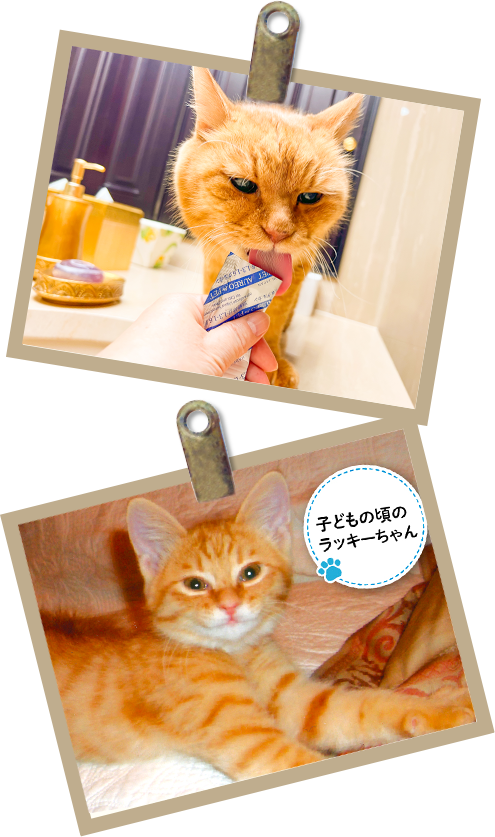 Churutto Snap No.2
Tokyo/Lucky (18years old) boy
(February 2023)
Message from the owner… I picked her up when she was a kitten. When I took her to the hospital, I found out she had kidney disease, so I started feeding her mainly ph-controlled food mixed with beta-glucan. Now, when I mix a little water and beta-glucan into the ph-controlled wet type food, he happily eats it by himself. I hope he live in good health.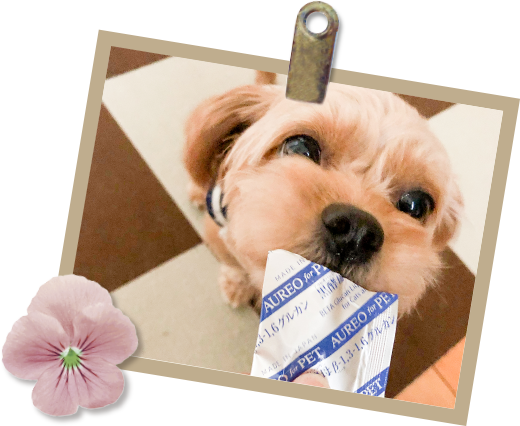 Churutto Snap No.3
Tokyo / Koro (3 years old) girl
(August 2022)
Message from the owner… Koro loves to eat. beta-glucan mixed with pet food or popped straight from the bag. Pellets can be eaten as a reward. It is also very convenient to take with you on walks. Mom also loves beta-glucan, so you can eat it with peace of mind. Since Koro-chan came to our house, our family's smiles and conversations have increased. We have to take good care of her so that she can stay with us forever in good health.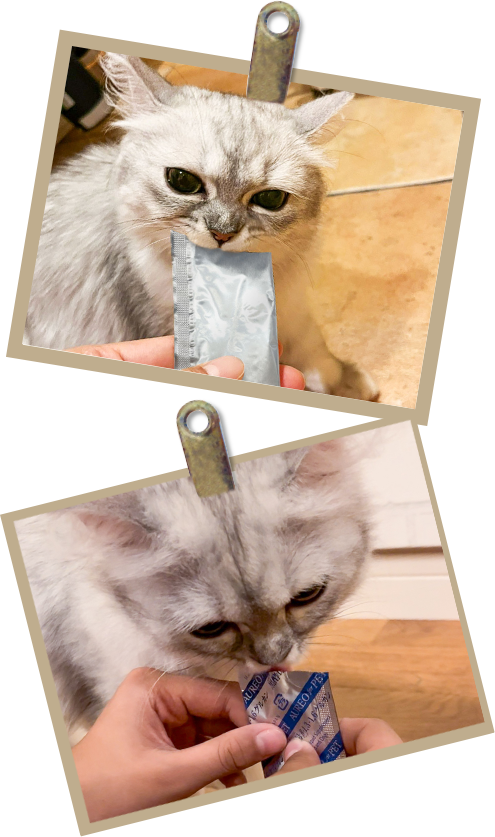 Churutto Snap No.4
Tokyo / Mei (1years old) girl
(August 2022)
Message from the owner… Our family has been eating beta-glucan for nearly 20 years, and Mei, who joined our family in 2022, also loves beta-glucan. We mix it in her food every day. When we are eating beta-glucan, she comes up to our feet, stares, and asks us to give her some. Then she licks it directly from the bag. Mei has long hair and a fluffy tail. Beta-glucan is a dietary fiber that helps to eliminate hairballs. Mei has always been a great source of comfort for our family, and we will continue to take good care of her so that she will always be healthy and happy.
Call for Churutto Snapshots!
How to apply
We are looking for photos of your pets to appear on our official website, Instagram, Twitter, etc!
The only one winner will receive 6 bags of Aureo for Pet (15mL) in the original package!
We look forward to seeing pictures of you eating Aureo's beta-glucan supplements, your favorite beta-glucan♪
Please fill out the application form below with the required information and send it to us with your photo attached.
*Image size must be at least 1 MB and not larger than 5 MB.
[1]Name, email address, and mailing address of the owner[2]Pet's name, breed, age, and sex [3]Comments and messages about eating Aureo's beta-glucan. [4]Photo (jpeg data))
We would be happy to know how you came to know about Aureo's beta-glucan, the type of beta-glucan supplements you are using, and how you feel when you eat beta-glucan supplements.
Notes on Application
*Please note that we may adjust the size and color tone of the photos you submit.
*We reserve the right to edit comments received.
*We may edit your comments.
*We will not be able to answer when or if your photo will be published.
*Please be notified that we may not be able to publish your application even if it is submitted.
*Please refrain from submitting photos that include other companies' products or messages about other companies' products. We are not responsible for any problems related to portrait rights or copyrights.
</p
*Photos and messages submitted may be used on our website, Instagram, Twitter, and in our publications without prior notice.
*A box per person will be given as a thank you for your adoption.
*We properly manage and protect your important personal information. Personal information received from customers will be used only for the purpose of sending prizes, contacting customers, and providing information services.
Customer Testimonials
(Churutto Snap)
Application Form